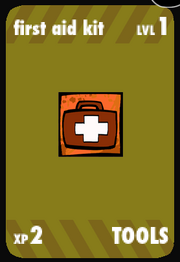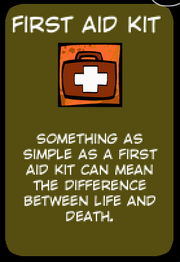 "Something as simple as a first aid kit can mean the difference between life and death."
Consumable item that restores about 15 health points. To use, double tap it in the inventory screen.
Can be traded for 12 Ga shotgun shells or food in the Post Office encounter.
Ad blocker interference detected!
Wikia is a free-to-use site that makes money from advertising. We have a modified experience for viewers using ad blockers

Wikia is not accessible if you've made further modifications. Remove the custom ad blocker rule(s) and the page will load as expected.