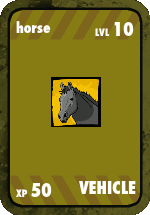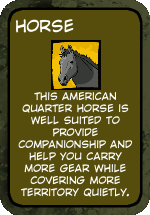 This American Quarter horse is well suited to provide companionship and help you carry more gear while covering more territory quietly.
Level: 10
XP: 50
Encounter
Edit
A horse increases the search radius and gives you about 30 new locations.
To use a horse, put it in the top (red) row (not necessarily in your hands). Then click "Keep Searching" until the map refreshes.
Tool Use
Edit
Having a horse with you, even in inventory, grants you 19 extra inventory slots (20 total, but horse uses one item slot). This effect does not stack with backpacks and duffle bags.
Horse is easy to get, however it has the lowest search distance of all the vehicles.
The horse is treated as a vehicle, that's why:
It isn't involved in combats (unlike human companions and guard dogs).
It cannot die.
It does not consume any food or water.
Ad blocker interference detected!
Wikia is a free-to-use site that makes money from advertising. We have a modified experience for viewers using ad blockers

Wikia is not accessible if you've made further modifications. Remove the custom ad blocker rule(s) and the page will load as expected.